This blog is closed. Follow the latest updates on the pandemic from around the world:
The millionaire Canadian couple who chartered a private plane to a remote community and jumped the coronavirus vaccine queue to receive doses intended for elderly Indigenous people have been fined C$2,300 but were not sentenced to jail after pleading guilty to breaking public health rules.
The size of the fine imposed on the former casino executive Rodney Baker and his wife, the actor Ekaterina Baker, on Wednesday prompted frustration amid members of the White River First Nation, many of whom wanted the couple to face stiffer repercussions.
Pfizer Inc said its oral rheumatoid arthritis drug Xeljanz reduced death or respiratory failure in hospitalized Covid19 patients with pneumonia in Brazil, meeting the study's main goal.
Results of the study, which tested the drug in 289 hospitalized adult patients with the respiratory illness caused by the coronavirus, were published in the New England Journal of Medicine.
Pfizer said the incidence of death or respiratory failure was 18.1% for patients treated with the drug compared to 29% for placebo. Serious adverse events occurred in 20 patients treated with the drug compared to 17 patients on placebo.
Xeljanz, which belongs to a class of drugs called JAK inhibitors and also treats the autoimmune disease ulcerative colitis, has not been approved or authorized for use in any country for the treatment of COVID-19.
Pfizer and German partner BioNTech SE's vaccine is one of the three vaccines currently approved for emergency use in the US, Reuters reports.
Brazil has had 95,367 new cases of coronavirus reported in the past 24 hours and 2,997 deaths, the health ministry said on Wednesday.
The South American country has now registered 17,628,588 cases since the pandemic began while the official death toll has risen to 493,693, Reuters reports.
The UK's "public health crisis is over" if Covid vaccines continue to offer high protection against hospital admission, despite the virus spreading in the community, a leading scientist told MPs.
Professor Sir Andrew Pollard, director of the Oxford Vaccine Group, said society would need to learn to live with Covid-19 going forward, and also suggested it was not feasible in the short-term to keep producing new vaccines for every variant.
It comes as an expert from Public Health England said the global pandemic would last another two years.
Sir Andrew told MPs that the emergence of new variants "will happen, is going to continue to happen" as he urged people to continue having vaccines.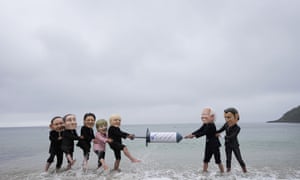 Fully vaccinated people in Britain could be allowed to travel to amber list countries without quarantining, The Daily Telegraph reported.
Amber list countries includes Spain, France, Italy and the US.
German biotech group CureVac said its Covid-19 vaccine was shown to be 47% effective in a late-stage trial, missing the study's main goal.
It throws in doubt the potential delivery of hundreds of millions of doses to the European Union, Reuters reports.
Australia's prime minister, Scott Morrison, has called for global cooperation to ensure peace and stability in the Indo-Pacific, lashing China for undermining the rule of law and threatening a world order that "favours freedom".
"This region is at the centre of significant economic and geopolitical change, and it's in all of our interests that it recovers quickly from the pandemic and this downturn.
"That it remains open, inclusive, secure and resilient," he said.
Abu Dhabi received its first shipment of the coronavirus Sotrovimab medication, becoming the first city globally to receive it, the media office said on a tweet on Wednesday.
The Ministry of Health and Prevention approved the emergency use of Sotrovimab in May, saying it " offers the prospect of reducing hospitalisation for more than 24 hours and fatalities by as much as 85% when administered to patients as an early treatment for Covid-19", the state news agency reported., Reuters reports.
MPs in England have voted 461 to 60 to approve regulations that delay the easing of coronavirus restrictions in England to 19 July.
South Africa's Covid-19 infections jumped by 13,246 on Wednesday, the highest daily total in five months, its government said.
US president Joe Biden said China was trying to project itself as a responsible nation in regard to the Covid-19 pandemic, but it remained unclear whether Beijing was really trying to understand the origins of the coronavirus.
Johnson & Johnson is expected to miss its Covid vaccine supply target to the EU for the second quarter after millions of doses were banned for use in Europe over safety concerns, according to the European Commission.
France and Spain are moving to ease rules around wearing face masks outside, in a development attributed by both countries to their Covid-19 vaccination campaigns.
Australia's second largest city will allow its five millions residents to travel more than 15 miles from home and end mandatory masks wearing outdoors from Friday.
Ursula von der Leyen signed off on the first plans by EU member states to spend Brussels' €800bn (£687bn) Covid recovery fund, as she sought to reverse the reputational damage inflicted on the bloc by the pandemic during a visit to Portugal and Spain.
All care home staff in England will need to be fully vaccinated against coronavirus under a controversial new law, the government announced.
Codogno, the town where the first domestic transmission of Covid-19 was detected in Italy, has registered zero infections among its inhabitants for the first time since February 2020.
Companies in Germany will from the end of June no longer be forced to allow working from home, chancellor Angela Merkel's chief of staff was quoted as saying.
The Taj Mahal reopened to the public as India pushes to lift restrictions in a bid to revitalise its economy.
People refusing to have the coronavirus vaccine in England should be at the end of the queue for hospital treatment, a Tory former minister said.
Speaking in a debate at Westminster, Lord Blencathra said they ought to be behind patients who have had the jab but requiring other medical treatment.
The Conservative peer, who was an MP for nearly three decades, made the call as the House of Lords backed the extension of Covid-19 restrictions in England.
Lord Blencathra said he "reluctantly" supported the four-week delay to easing restrictions on June 21, which the government argued is needed to give more time for people to receive vaccinations in the face of the rapidly spreading Delta variant, which was first identified in India, PA reports.
Mexico reported 3,789 coronavirus cases and an additional 196 fatalities on Wednesday, according to health ministry data.
It brings the total number of cases to 2,463,390 and the overall death toll to 230,624, Reuters reports.