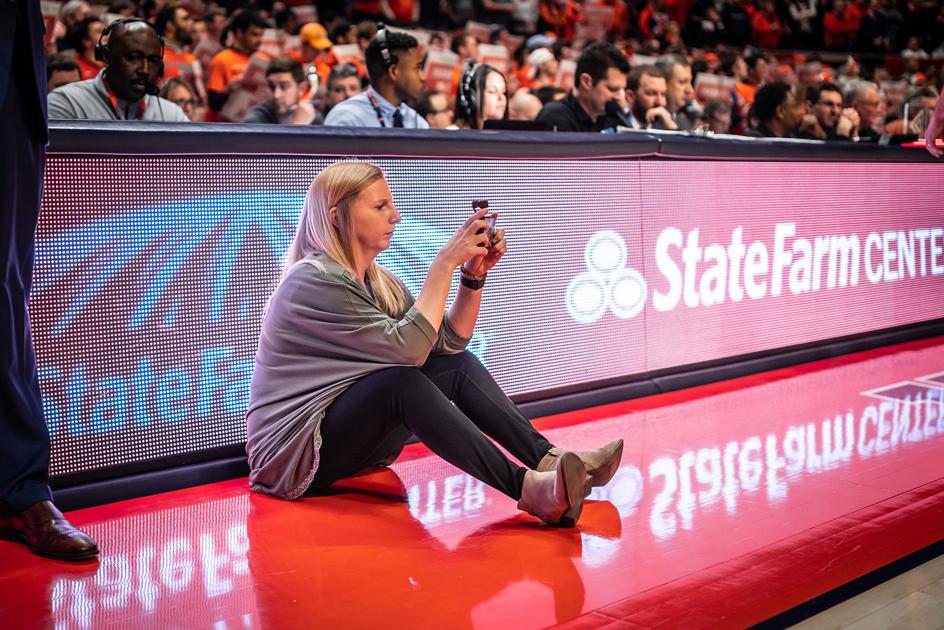 CHAMPAIGN — Grace Duggan might not feel the same pressure Brad Underwood or Ayo Dosunmu does during an Illinois men's basketball game.
But she still needs to perform.
Because Duggan runs the Illinois men's basketball Twitter account (@IlliniMBB) that has almost 129,000 followers.
So, Tuesday night's 76-53 road win by fourth-ranked Illinois at second-ranked Michigan was certainly a fun one for the 28-year-old social-media strategist with the Illinois athletic department.
"I don't have many push notifications for social media on my phone, so when it starts to light up constantly, I know it's going to be a big night for the platforms," Duggan said. "Watching the Twitter feed, especially during the second half, it was great to see so many people talking about Illini basketball. Alumni from all different sports, the national media and all of our fans were super excited. It was great to see all of the positivity and the spotlight on the players who have worked so incredibly hard this season and deserved all of the publicity they received on Tuesday."
Duggan is the one putting out photos, graphics, GIFs and sometimes just text on the Illini's Twitter account.
"My voice on the social-media accounts is very human," she said. "I like for the account to feel relatable. The commentary is often very rooted in the random thoughts I have and moments that I find funny."
Duggan likes to alternate between the different images she conveys on the Illini's Twitter account. Postgame video of Brad Underwood celebrating with his team has become a must. Two videos showing Illinois enjoying the Michigan win from its locker room in Ann Arbor, Mich., have drawn almost 600,000 views.
"For the now-famous locker room celebrations, we know video is the priority," Duggan said. "For information about awards, schedule updates and other information, we often use graphics. Our content team also has access to thousands of photos, so we always have the opportunity to showcase great moments with photos. It is truly about feel and what looks good in the moment."
Duggan works closely with Kelsea Ansfield, the Illinois men's basketball team's director of creative media, and Derrick Burson, the team's sports information director. Jason Marry (associate director of video service), Paige Apkarian (assistant director, creative services), Joel Schmidt (assistant director of video services) and David Craan (social-media coordinator) are other DIA employees crucial to churning out relevant content on social media for the UI's most popular athletic team right now.
"I am so thankful for this group and the buy-in we have," Duggan said. "With huge wins come huge opportunities for us to showcase Illinois basketball on the national stage. We have seized plenty of those opportunities and hope to continue doing so."
Duggan, Apkarian and Ansfield did a photo shoot in February with the players geared around the NCAA tournament, which starts March 18.
Duggan said to anticipate seeing plenty of imagery from Indiana later this month since the 68-team field is playing solely in the Hoosier State.
Having a strong social-media presence not only gives fans a look behind the scenes, but also does so for prospective recruits. That is a main objective to Duggan.
"Recruits and the public love the same type of material, so when we target recruiting, we are able double-dip on what our fans want to see," she said. "The Illinois fan base has been incredibly passionate all season, and I can't imagine what the month of March will bring us."
Matt Daniels is the sports editor at The News-Gazette. He can be reached at 217-373-7422 or at mdaniels@news-gazette.com.