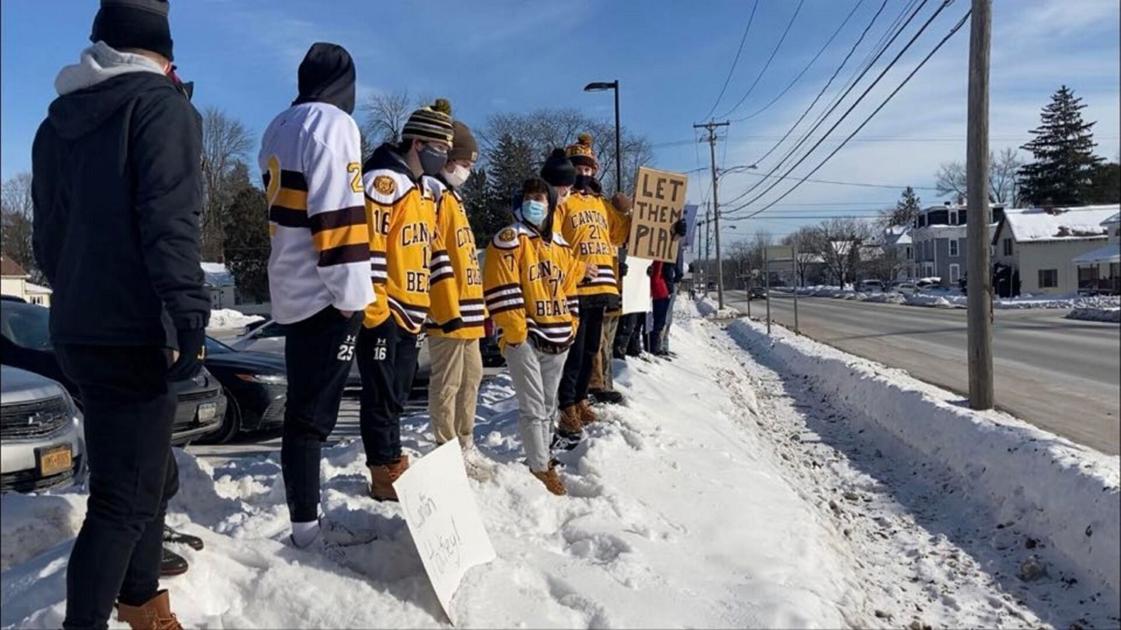 CANTON — About 50 Section 10 student athletes stood on a snowbank in subzero temperatures Monday to protest the fact that they weren't able to start practicing for a winter sports season.
The protesters stood in front of the building along the village's Main Street, where the Section 10 athletic office is, holding signs reading, among other things, "Let them play!"
Many areas across the state started official practices Monday, including Lewis County, but Section 10 announced late last week that winter sports were on pause while they processed the information sent out by the state's interim guidances for sports and recreation during the COVID-19 Public Health Emergency for high-risk sports.
Players from several area schools were seen at the protest Monday morning. Many were from the Canton and Massena boys hockey teams, but there were also athletes from Malone and Heuvelton among the group.
"I came out here because we have not been able to have a hockey season this year," Canton senior Trey Bessette said. "I just think with (other sections) and the state allowing high-risk sports that we should be able to play. Other counties have been able to and we are one of the few that haven't allowed it. I'm just out here protesting our right to play hockey."
Canton boys hockey coach, Anthony Levato, has found ways to keep his team active, forming an 18-and-under team that's not affiliated with the high school, which has let his team have practices, though that team has not played any games.
"We are skating four times a week," Bessette said. "But it's not the same as no games. The intensity isn't the same without a season."
One of the other Golden Bears at the protest was junior goalie Hayden Todd.
"We are out here trying to protest our right to play hockey," Todd said. "We have not been able to play so far this season due to (COVID-19) restrictions. A lot of the state has been able to open up now and we are seeing our COVID-19 rates decline so we are protesting for our right to play your high-risk sport. I was really hopeful at first, our rates are just as low as others, I thought that we would be able to play, but unfortunately not."
Massena's players reached the state Division I Final Four last year, only to see the season halted that week around the start of the virus.
"We want to get our sports back," Massena senior Caleb D'Arienzo said. "The toughest part is trying to keep a normal schedule. Right now it's really hard to do anything, it feels like every day is the same. Most people stay in bed all day. We have nothing to look forward too. It's really hard."
Like Canton's team, Massena's players have found places to skate and get in some form of practice.
"I want to fight for our sports and to get back to our normal life and hope for the best from here on out," Massena senior Ryan Frost said. "People have been off their grid and laying in bed all day not being able to have the ability to be out there, being in shape, having their fun, having their all-day curricular activities. I like the brotherhood, the family we have, it's something to look forward to every day."
Section 10 athletic coordinator, Carl Normandin, sent an email over the weekend detailing some of the things which must be done by local schools before practices can begin.
Among the items on the list are preparing a COVID safety plan which gets posted to a school's website, then having that plan approved by the respective agency or school board, as well as school medical director.
Schools must be able to provide a separate bus for each team and health screenings will be required for every employee, coach, player and spectator prior to any sports activity.
Once games begin, each school must log the names of everyone associated with a practice or competition, including referees, officials and spectators. The log will include names, phone numbers, email addresses, counties of residence and will be kept on file for 15 days.
It's also recommended that every athlete, coach, manager and official undergo weekly testing.