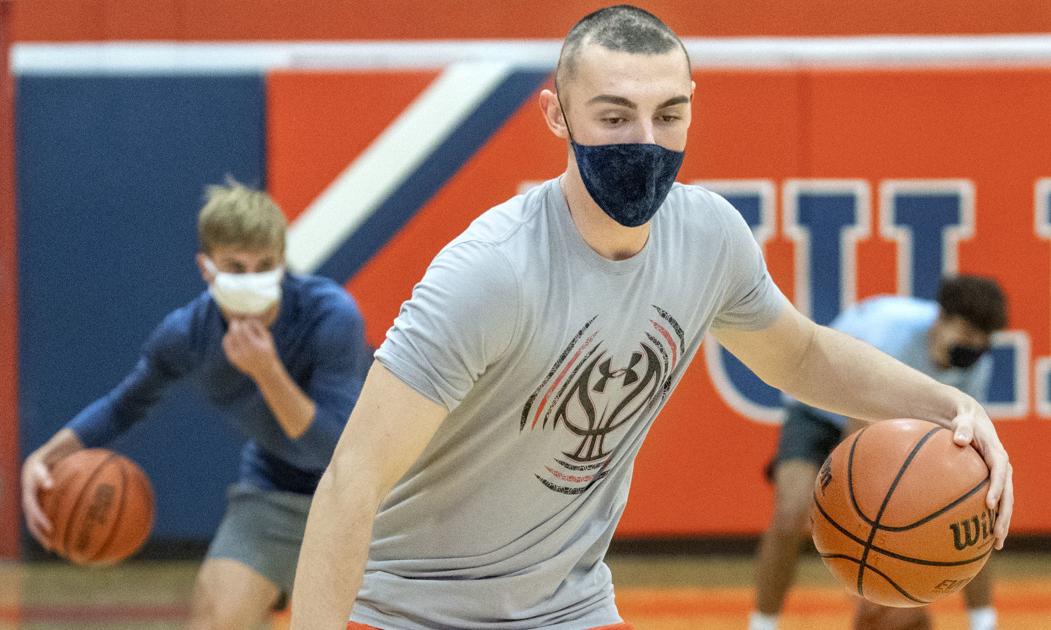 Some high school sports can resume practicing immediately within The News-Gazette's coverage area, and others can enter offseason workouts next week.
That news arrived Monday courtesy Region 6 shifting from Tier 3 to Tier 1 in the Illinois Department of Public Health's COVID-19 mitigation plan.
Gov. J.B. Pritzker and the IDPH last Friday announced plans to bring back prep athletics in regions that see improvement within IDPH mitigations. All IHSA sports were paused on Nov. 17 in coordination with those mitigations, with the only permissible activities being one-on-one exercises between winter sports coaches and athletes and outdoor workouts for any sport in groups of 10 or fewer.
Schools inside a region moving from Tier 3 to Tier 2 are allowed to restart winter sports training, based on IDPH guidelines and a sport's risk level.
This is the case for Region 6, though entirely surpassing Tier 2 for Tier 1 means local winter sports teams can experience even more freedom in their actions.
Lower-risk sports programs will be able to compete in tournaments, out-of-conference and out-of-state events and "championship games" once the IHSA establishes a start date for such activities, per IDPH rules. This affects badminton, bowling, competitive cheer and dance, girls' gymnastics and boys' swimming and diving statewide.
IHSA executive director Craig Anderson said last week he anticipates lower-risk winter sports' competitive start dates being established prior to a Jan. 27 IHSA Board of Directors special meeting.
Basketball teams, meanwhile, can conduct intra-squad scrimmages since the sport falls in the higher-risk category of the IDPH's guidelines. IHSA spokesman Matt Troha told The News-Gazette the organization is awaiting clarity on what it would take for basketball teams to play games. The same goes for teams in future higher-risk sports like football and wrestling.
There are no medium-risk sports in the IHSA's winter season. Should Region 6 be operating in Tier 1 when the spring season begins, sports like volleyball and boys' soccer would be allowed to contest intra-conference and intra-region events, just like the IHSA's 2020 fall sports teams.
Those fall sports did not have IHSA-sanctioned state tournaments, however, and it's not clear if the IHSA will consider holding such showcases for winter, spring and summer sports that are allowed them per IDPH rules.
As long as Region 6 stays out of Tier 3, spring and summer sports of all risk levels can begin contact days on Jan. 25. Locally, this impacts lower-risk sports baseball, softball, track and field and boys' tennis; medium-risk sports volleyball and soccer; and higher-risk sports football and wrestling.
The IHSA Twitter account on Monday night posted a message in response to recent changes in regions' IDPH mitigation levels.
"The #IHSA is working with @IDPH to clarify what the continued positive movement of multiple regions to Tier 1, Tier 2 or Phase 4 means for IHSA schools and sports going forward," the message read. "We will send out an update to member schools & post information on our website on Tuesday."
Region 6 joins Regions 1 and 2 in Tier 1 mitigations, while Regions 3 and 5 have entered Phase 4, which is a step above Tier 1. Regions 8, 9, 10 and 11 are in Tier 2, while Regions 4 and 7 are in Tier 3.
Should Region 6 slip from Tier 1 to Tier 2 mitigations, lower-risk winter sports would be permitted only intra-conference events and basketball would shift to non-contact practices. Spring and summer sports can still have contact days in Tier 2.
Three benchmarks are used to track a region's improvement in IDPH mitigations standing:
A test positivity rate below 12 percent (Tier 3 to 2), 8 percent (Tier 2 to 1) or 6.5 percent (Tier 1 to Phase 4) for three consecutive days, as measured by the seven-day rolling average;
Greater than or equal to 20 percent available staffed ICU and medical/surgical hospital beds for three consecutive days, on a three-day rolling average;
A sustained decrease in the number of people in the hospital with COVID-19 for seven out of 10 days, on a seven-day average.
The aforementioned Jan. 27 IHSA board meeting will be used to "review sports schedule framework," according to a Jan. 13 IHSA press release. That statement indicated the board possesses multiple potential plans for scheduling the remainder of this school year's sports, partially depending on "insight gained" between Jan. 13 and Jan. 27.