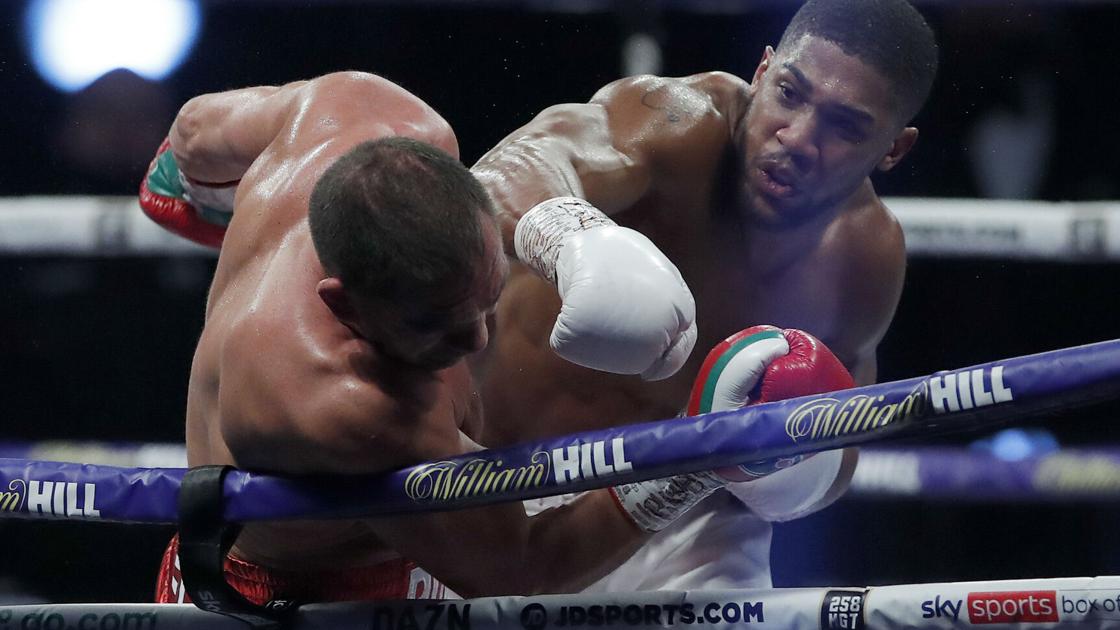 By rediscovering the thrill of a brutal knockout, Anthony Joshua cleared the way to a shot at being the undisputed heavyweight champion of the world.
With a big right hand that sent Kubrat Pulev, a durable but one-dimensional Bulgarian, to the canvas for a third and final time, Joshua secured a dominant ninth-round win in his U.K. homecoming on Saturday to retain the WBA, WBO and IBF belts.
It wasn't long before the inevitable question was thrown at him: is WBC champion Tyson Fury next in what would be an all-British blockbuster to unify the four titles in boxing's marquee division?
"Whoever has got the belt, I'd love to compete with them," Joshua said. "If that is Tyson Fury, let it be Tyson Fury."
If that felt a slightly non-committal response — and it was taken that way by Fury in a video message he released moments later — Joshua's promoter, Eddie Hearn, left no room for debate.
"We know what we have to do starting from tomorrow: to make the Tyson Fury fight straightaway," Hearn said, a big grin on his face.
"It's the only fight to be made in boxing. It's the biggest fight in boxing."
Figueiredo, Moreno fight to draw in UFC 256
LAS VEGAS — Deiveson Figueiredo and Brandon Moreno fought to a thrilling majority draw at UFC 256 on Saturday, with Figuereido setting a UFC record with two defenses of his flyweight title in three weeks.
Lightweight contender Charles Oliveira also earned his eighth consecutive victory by unanimous decision after dominating former champion Tony Ferguson on the ground at the Apex gym on the UFC's corporate campus.
Just 21 days after Figueiredo (20-1-1) stopped Alex Perez for his first title defense at UFC 255, the Brazilian returned to the cage and survived a perilous stalemate with Moreno (18-5-2), who also fought at UFC 255.
With a stirring mid-fight rally after a low blow left him in pain on the canvas, Moreno came agonizingly close to becoming the first Mexican-born champion in UFC history.
Mets offering GM gig to Jared Porter
NEW YORK — The busy New York Mets have a general manager in place — with plenty of work on his plate.
Jared Porter and the Mets finalized a four-year contract Sunday that makes him the 14th general manager in franchise history. The team is scheduled to introduce him Monday in a news conference on Zoom.
The 41-year-old Porter spent the past four seasons with the Arizona Diamondbacks as senior vice president and assistant general manager under GM Mike Hazen. Porter will report to Mets president Sandy Alderson, who has taken over baseball operations under new owner Steve Cohen.
"Jared has proven himself at every level and in every position he has held, earning respect from his peers throughout baseball," Alderson said in a statement. "He is deeply knowledgeable in all aspects of the game and has worked with several accomplished baseball executives. Jared is prepared for this next challenge."
Porter worked under Theo Epstein with the Boston Red Sox and Chicago Cubs, winning three World Series in Boston's front office and another with the Cubs before joining the Diamondbacks in 2017.
Auburn football dumps Malzahn
Auburn has fired coach Gus Malzahn, who led the Tigers to the national championship game in his first season but could never replicate that success.
Athletic director Allen Greene announced the firing on Sunday, a day after the Tigers finished the regular season with a 24-10 victory over Mississippi State. Auburn is 6-4 in a pandemic-shortened season of all Southeastern Conference opponents, losing by double digits to highly ranked teams Alabama, Georgia and Texas A&M.
They were also upset by a struggling South Carolina, which wound up firing coach Will Muschamp during the season.
Defensive coordinator Kevin Steele will be interim coach. Auburn will owe Malzahn a $21.45 million buyout for the remaining four years of a seven-year, $49 million deal.
US Women's Open postponed to today
HOUSTON — The latest U.S. Women's Open on the calendar will last one more day because of relentless rain that drenched Champions Golf Club and forced the USGA to suspend the final round until Monday.
Hinako Shibuno of Japan, who had a one-shot lead as she goes for a second major, never teed off.
The USGA moved up tee times as early as possible Sunday because of the forecast, and the final round was just over an hour old when thunderstorms in the area caused play to be stopped. It never resumed, with about three-quarters of an inch of rain falling before there was no point in trying to restart.
The U.S. Women's Open was postponed from early June because of the COVID-19 pandemic.
Neymar stretchered off in PSG loss
PARIS — Neymar was taken off on a stretcher deep into stoppage time as defending champion Paris Saint-Germain lost 1-0 at home to Lyon to drop to third place in the French league on Sunday.
— The Associated Press
Neymar incurred a left ankle injury in the seventh minute of injury time at Parc des Princes following a heavy tackle from Thiago Mendes, who was then red carded.
"No news about Ney(mar)," PSG coach Thomas Tuchel said after the game. "He's with the physio and the doctors, and he will have some tests tomorrow."
Lyon held on for 10 minutes of stoppage time to extend its unbeaten run to 11 games and throw the title race wide open.
PSG's fourth defeat of the season sent Lille top after it beat Bordeaux 2-1. Lyon is now second on goal difference, while PSG is one point behind in third spot.