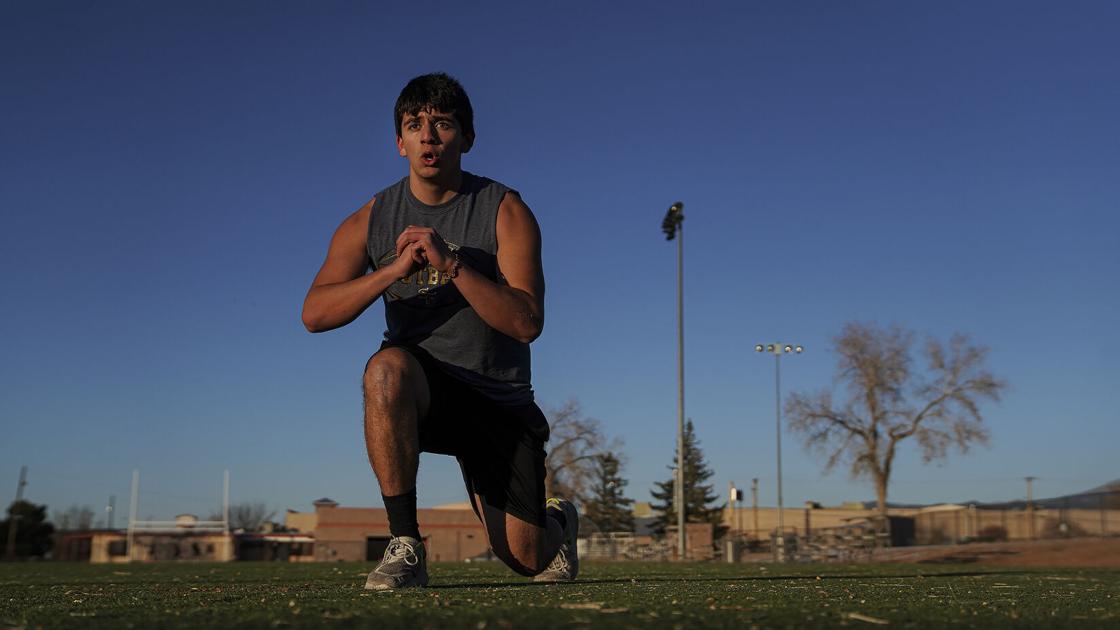 Not long before the novel coronavirus snuffed out any hope of New Mexico high school football this fall, Santa Fe High head coach Andrew Martinez did a thorough grade check of his players.
What he found underscored what he sees as the value of sports and personal interaction teenagers get in school.
Mired in the haze of a distance-learning world, 68 percent of the Demons had at least one failing grade in class. Within a few weeks of starting limited preseason workouts under the state's previous public health order, that figure shrank to 22 percent.
"Kids need sports; kids on this team — they need football," Martinez says. "It keeps them in line and gives them a sense of accountability. I mean, we all get the need for school going online, but sports, all the activities, being face to face with teachers — that's always been a big part of a kid's life and now it's gone."
It has become a statewide problem that has many coaches worried about the immediate future of high school athletes — and sports in general. According to the state's governing body for high school athletics, the New Mexico Activities Association, dropout rates are rising, grades are falling and mental health is practically a daily topic. The association has suggested, though, it will consider canceling sports if the pandemic continues.
Last week, as the NMAA voted to push the start of prep sports back to Feb. 1, condensing 10 months of competition into less than five, the unthinkable became all too real: High school athletics, at least this school year, hangs by a precarious thread.
If sports do get cut, football likely will be the first to go. It would require approval from the Governor's Office to resume practice, let alone games. To date, Gov. Michelle Lujan Grisham has shown no signs of budging from a public health order with minimum return-to-play guidelines that seem impossible to reach in less than two months.
NMAA Executive Director Sally Marquez says any further delay beyond Feb. 1 will leave her no other choice but to start cutting sports.
But for teenagers who play the games, the damage has already been felt.
"Honestly, the mental aspect of not seeing your friends, not seeing your teachers and just looking at a screen for seven or eight hours a day, it takes a toll," said Isaiah Madril, a junior at Santa Fe High. "The few times that I have gone out and just run into friends at the store, somewhere random, it's like rewarding in a way. You don't have it every day anymore. You miss that."
A three-sport letterman who gushes about the mentorship he receives from teachers and coaches like Martinez, Peter Graham and Zach Cole, Madril still plans to play football, basketball and track for Santa Fe High despite the potential overlap of sports seasons.
He has a dream of becoming an athlete in college, but when the entire state is on lockdown and there's nowhere to go but to the nearest computer screen, it makes the recruitment process virtually impossible.
"I respect the people who make the decisions that look out for our health, but we just want to play," Madril says. "We just want to be out there."
The virus and ensuing public health orders eliminated prep sports in March and postponed the entire fall season. If football is canceled early next year, New Mexico will have gone nearly a full calendar year without youth sports of any kind.
"This, right now, is the time when scouts should be out here looking at these kids and their sports being called off is just a killer," says Tim Host, Academy for Technology and the Classics cross-country coach, whose team won a state title last fall and had a deep roster that included college prospect Maggie Rittmeyer back after she won an individual championship last year.
Cross-country's season, which is now scheduled for just six weeks, is slated to start Feb. 15, assuming the NMAA gets the go-ahead from the Governor's Office. That leaves just six weeks for Rittmeyer and athletes in other sport to register on a recruiter's radar and potentially land a scholarship.
"We have seven or eight kids on this team who I feel could get a chance at the next level and they're never going to get it with the way things are going," says Capital football coach Bill Moon. "You tell me how that sits with a kid. You tell me how a coach explains to him that his only shot to get a scholarship might be lost. Football isn't like those other sports. There is no club football; this is it for them."
Aside from sports, the lockdown has made even the most basic human element of interpersonal interaction nearly nonexistent. It's a theme heard among many students, athletes included.
"I really do miss that in-class interaction. That's the one thing I miss the most," Madril says. "That's how you really build those relationships with your classmates and especially your teachers. Them just hearing you and seeing an icon on a screen is just not the same."
One of Madril's football teammates is junior Diego Montoya, a 4.0 student and aspiring astrophysicist who is as grounded and levelheaded as they come. He says he misses the grind of the game and aches for the clanging of the weight room.
He also misses the simple things. He had hoped to finally get his full driver's license this month, but that experience, like so many other things, was put on hold because of the pandemic.
"It really is just the little stuff, you know?" he says. "None of this has been easy."
Without a gym or weight room to visit, Montoya spends most of his time doing whatever he can around his house to stay fit. From time to time he'll sneak away to the park to run pass patterns with one of his teammates, a routine shared by dozens of athletes around town.
Nico Martinez also is on Santa Fe High's football team. Cabin fever, he says, is one of the biggest issues every high school kid faces. There's only so much Snapchat, TikTok and Instagram the teenage mind can take before the craving for being active and burning off some energy gets to be too much.
"I'm working out as much as possible, like five times a week," Martinez says. "It's just a way to take out my anger in a way, sort of make me feel free. The fact that we don't have football and we're not allowed to tackle and hit and just be aggressive with each other, plus the fact that gyms are closing — it's hard to stay motivated when it's just homework and school."
The prospect of not playing has created ripple effects all over the state. Coaches have told the NMAA many families have already said they'd opt out of sports for safety reasons, forcing some coaches to say they'd feel lucky just to get enough players to field a team.
It falls to players like Montoya to keep the hope of playing alive. He says has had no choice but to reduce his workouts to lifting free weights at home now that gyms are off-limits. He says he's considering sitting out the football season if the state's daily case count of COVID-19 doesn't drop below 1,000 by February.
"It's really iffy at that point," he says, referencing conversations he's had with his parents about the health implications for the entire family. "I'm not comfortable if the cases are over 1,000 or around that area. I'm not comfortable playing because I feel that I might get [the virus] if I actually go out there and play."
Moon says he's had at least one player leave his program due to health concerns. He's also had two starters leave school so they could get jobs and help support their families. Both he and Santa Fe High's coach Martinez say their biggest task is keeping kids engaged at school — and in life.
"As coaches, we've always said that the only reason for football in a school is to teach character and discipline, and now we're in a place where we're teaching kids about perseverance more than ever," Moon says. "Coaches are being tested, kids are being tested. Hell, we all are. Now's the time, with everything shutting down, when the adults are finding out if all the things we've thought were important life lessons are actually true."