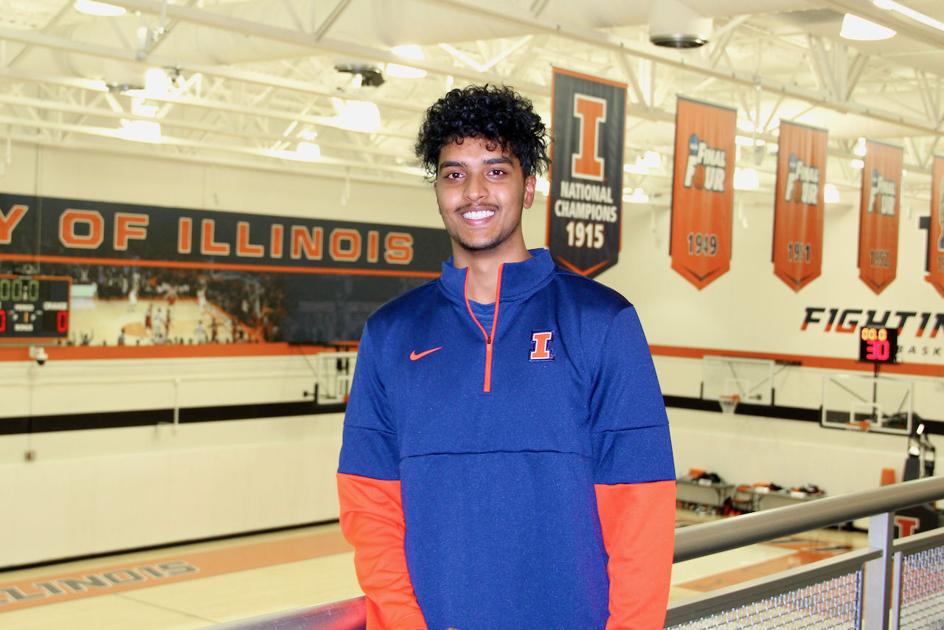 CHAMPAIGN — Neel Ganta had a path forward for a career in the world of finance.
Two separate internships at the Federal Reserve Bank of Kansas City and another with JPMorgan Chase & Co. in New York provided hands-on experience for what he learned both in his time at Kansas State and a semester abroad in Italy.
Ganta's internship with JPMorgan Chase & Co. as a summer financial analyst in 2018 for the investment banking company before his senior year at Kansas State helped solidify that finance path. It came with a job offer after he graduated. He was "dead set to work on Wall Street."
Then he wasn't.
Ganta decided to follow a different passion — basketball. His winding road on that particular career path now finds him in Champaign as a graduate assistant on Brad Underwood's Illinois coaching staff.
To get there?
"A bit of luck, a bit of being an opportunist and a lot of Brad being receptive to what I could bring to the table and believing in me and giving me an opportunity," Ganta said.
Ganta diverged from finance to basketball during his internship at JPMorgan Chase & Co. He became aware that he didn't have the technical skills — particularly in coding — to stay relevant for how JPMorgan Chase & Co. was trending as a business with its $10 billion investment in its tech budget.
"I came to a profound realization that this job may not even be around in five years," Ganta said. "Those are all things I didn't know how to do. It felt daunting at first. It felt dreadful in a way. If I continue down this path, I'll be the next person gone. It was very straightforward how I saw it."
Ganta also realized a career in finance wasn't what he actually wanted. Beyond knowing he would need to enhance his technical skill set, he simply didn't like what he was doing as much as he once thought.
"I had a lot of reflections that summer," Ganta said. "One of the things was, 'What do I love to do?'"
Love of the game
Basketball was at the top of that list. Ganta played growing up in Manhattan, Kan. His parents had immigrated to the United States from India and settled in Manhattan — his dad is a professor at Kansas State — and while they didn't know much about American sports, they put him in all of them.
Basketball was the one that stuck with him them and still does to this day.
"I noticed no matter where I went, almost always my first talking point with anyone was about basketball," Ganta said. "This is something I love to do. It would be great if I could make this my work. There's always that cliché of work in something you love and you'll never work a day in your life. That's where I wanted to be."
Ganta's decision to turn down the job at JPMorgan Chase & Co. came as he realized there were legitimate jobs in the NBA that centered around basketball analytics. It's a growing industry with positions being added for all 30 teams.
Ganta said that made him optimistic about his future in basketball, but also realistic knowing he had a long way to go to reach that level.
Forgoing the career in finance he had worked years for was a major decision for Ganta. It's also one he said "feels amazing."
"Any time that I feel like life seems really low or things aren't going my way, I learn to really appreciate those moments," Ganta said. "I was almost forced in my head to take a job I really didn't want to do and make that my life. It's so daunting. The job you take is what you're going to do. That's how it feels even if it might not be true. I had to pivot.
"I had to tell my parents I'm not taking this job at a bank in New York. … It was definitely a lot at the moment to take in and sacrifice, but now it feels amazing."
A life-long friendship
Ganta returned to Kansas State for a fifth year last fall to add to his technical skill set and learn how to code. It's fitting, of course, that his turn toward basketball happened in Manhattan. That's where he both fell in love with the game and also met Tyler Underwood in the seventh grade. Tyler's dad, of course, was then an assistant coach at Kansas State.
"In middle school, kids can try to pick on others for being different, and I was certainly different being a minority," Ganta said. "It was never a thing with Tyler. We bonded over basketball and were close friends for a few yeas there until the Underwoods ended up moving."
Ganta stayed friends with Tyler Underwood as he moved to Columbia, S.C., Nacogodoches, Texas, Stillwater, Okla., and finally Champaign following his dad's coaching career. Ganta followed the basketball, too, as Brad Underwood turned Stephen F. Austin into a dominant Southland Conference force and then tackled the rebuilding project at Illinois after one superb season at Oklahoma State.
Ganta kept Tyler Underwood apprised of what was happening as he eschewed the finance world for basketball. The encouragement the younger Underwood provided at that time was helpful. Ganta had managed to network himself into a few internship interviews with NBA teams, but he didn't get any of them.
"I look back now, and it's because I just wasn't good enough," Ganta said. "It was very humbling. … A lot of guys in front offices told me it was really simple. I needed to have those technical skill sets I didn't have at the time and perform some sort of work to show you're fit at the job. One of them was like, a lot of college programs don't have analytics. A lot of programs don't have someone that can code."
A trip to Champaign in April 2019 sparked the biggest change in Ganta's career path. Illinois was coming off its record-setting — and not in a good way — 12-21 season. Ganta made the trip with another friend to hang out with Tyler Underwood and watch the NBA playoffs.
Ganta also had an analytics project he wanted to show Brad Underwood.
Impressing the boss
It wasn't elaborate. Just a simple look at what made Underwood's previous teams successful. The opportunity to show it off coincided with a recruiting dinner at the Underwood house.
Ganta emailed the project to Brad Underwood later instead. The response was a positive one and led to Ganta doing more in a consultant role throughout the 2019-20 season. Some of his work last season included an analytical look at the impact of Illinois' foul trouble a year prior.
"In practices now (Brad Underwood) stresses that is a defense error," Ganta said. "That is a mistake. You need to start thinking about that almost as a defensive turnover. Having one of the lowest free-throw rates in the league, defensively, was huge.
"It's easy for me to tell him we foul too much, but he's able to instill the change in the entire culture and the way players now look at the ball defensively and don't try to go for that steal and stay honest on defense. It's really fun to watch and learn in that aspect. I get to see how it translates to the game and the court."
Analyzing his role at IllinoisGanta's work last season as a consultant made him realize he wanted to be fully immersed in the Illinois basketball program.
An opportunity to be a graduate assistant, while he gets his master's in data analytics and technology management from the Gies College of Business, was one he couldn't pass up.
Ganta started working from home as soon as the position was a lock.
"That was building out an internal web application for the coaches and players to use as a central database to store playbooks and scouting reports and analytics and insights I happened to create or find," Ganta said. "I do not have previous basketball managerial experience or basketball operational experience in general. I do have analytical experience and technical experience other people don't have. If I come here, I don't come here empty handed."
Ganta has worked closely with Illinois assistant coach Stephen Gentry and video coordinator Zach Hamer. His crash course in all things basketball, though, involves the entire Illini staff. It's exactly what he wanted.
"A lot of analytics, it's such a buzz word, but if someone has a narrative they can generally find some sort of statistic that leans toward that narrative," Ganta said. "The one thing I'm able to add in is an unbiased view because I don't have a preconceived narrative. I don't think one thing is going to happen or one thing should happen. The teaching and understanding of the game I've been able to develop and gain from everybody here has been so big and so helpful."